UK Cities with a Claim to Fame
The vast majority of the world's population live in cities. In the UK, where there are 69 places which currently have city status, this figure is around eight out of every 10 people -and it is predicted to rise even higher in the years ahead.
Here The Moving Partnership, who can help you with commercial and domestic removals to any destination in England, Scotland, Wales and Northern Ireland, has identified some of the UK's cities with particular claims to fame.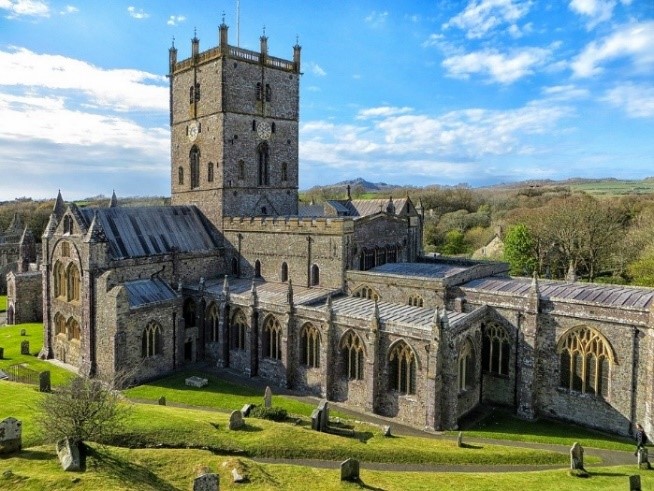 The Smallest
St Davids in Pembrokeshire, Wales, is the UK's smallest city by population size and urban area. In the last census in 2011, just 1,841 people lived there and the city covered just 0.23 square miles. It is the final resting place of St David, Wales's patron saint, whose remains are buried in the cathedral (above) which is the principal landmark.
It was first given city status in the 12th century due to its cathedral as traditionally towns in England and Wales which had a diocesan cathedral were entitled to claim this right. Appropriately, St Davids' cathedral houses the remains of Wales's patron saint, St David.
St Davids retained this designation until the 1880s, when the UK abolished the religious link. In 1994, city status was restored by the Queen on the 40th anniversary of her accession to the throne in recognition of St Davids' important Christian heritage.
In addition to the cathedral, St Davids also boasts a 14th century Tower Gate and a distinctive Celtic Old Cross. Despite its limited size, this tiny city boasts art galleries, hotels, a pharmacy and a number of other shops within its boundaries. St Davids beach is one of the best in Britain according to the Consumers' Association and is a popular venue for water sports, especially surfing.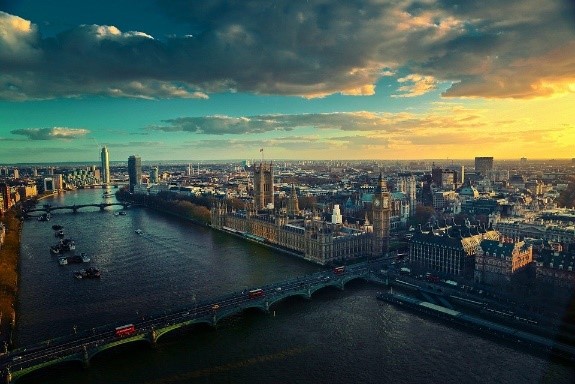 Greater London, above, has the largest population (8.174million) and built-up area (607 square miles) of any UK city. However, these figures relate to London's urban area, and so also includes places as far afield as Gravesend in the east, Guildford in the south, Bracknell in the west and Harlow and St Albans to the north.
Greater London should not be confused with the City of London. Also known as the Square Mile, this City has a residential population of under 10,000 but, because it is the heart of the capital's financial industry, more than half a million people work there.
If you are ranking cities by the size of its population, then Birmingham, Glasgow and Liverpool are at numbers two, three and four in the list.
The Newest
These days, city status is granted by the reigning monarch and it carries no special rights or privileges, although competition for the designation is always fierce as local politicians believe it carries a great deal of prestige. The latest two towns to be granted city status are Chelmsford and St Asaph. These were given the accolade in 2012, to coincide with the Queen's Diamond Jubilee.
Chelmsford is the county town of Essex and has a population of around 112,000. As it is only around 30 miles north-east of London it is a popular place to live for those who work in the capital while still enjoying the benefits of living in a rural county. Although the famous Marconi telecoms factory has now closed, Chelmsford still has a large number of high-tech employers and is also a major administrative centre – it is the home of Essex County Council, Chelmsford City Council and the county's police force.
By contrast, only 3,355 people live in St Asaph, making it the UK's second smallest after St Davids. Located in Denbighshire, Wales, St Asaph's residents often believed they lived in a city, thanks largely to its 14th century cathedral. In recent years improved transport links and a new business park has helped its economy to thrive.
The Oldest
It is not so clear which is the oldest city in the UK. The problem of a lack of any reliable evidence means there are a number of settlements whose claim to city status predates any historical records ('since time immemorial'). These include Bangor, Canterbury, the City of London, Durham, Exeter, Hereford, Lichfield, Lincoln, Salisbury, Wells, Winchester, Worcester and York.
UK Removals with The Moving Partnership
Wherever you want to move to within the UK, The Moving Partnership are able to help. We offer commercial and domestic removals to all towns and cities in the UK. Our extensive network of contacts means we can source a competitively priced quote which will be tailored to fit your individual requirements. We can add packing and unpacking services, cleaning and insurance to your basic transportation package.
We are following all the latest Government relating to Covid-19 and have put a business continuity plan in place which is constantly being monitored and updated. Call 0845 0037335 for our latest prices or click here for a free online moving quote.