Removals to Switzerland - St Gallen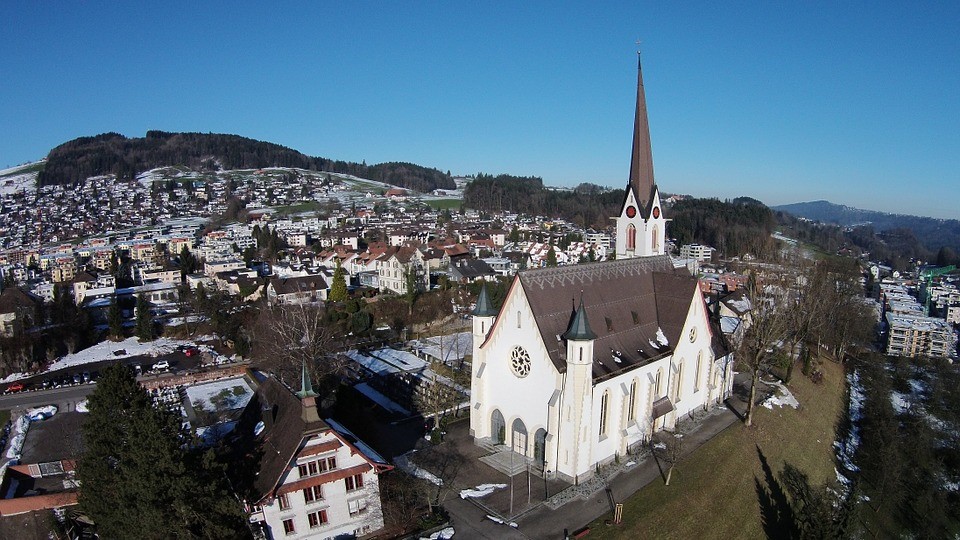 St Gallen has proved to be one of the most popular places in Switzerland to move to, with as one in three people who live here being classified as expats. And as well as being highly multicultural, it is also one of the most historic cities in the country.
The Moving Partnership specialise in house removals to all parts of Switzerland, including St Gallen. Here we take a closer look at why this city has proved such an attractive place to move to.
St Gallen's History and Heritage
The name St Gallen comes from an Irish monk, Gallus, who established a hermitage on the site of what later became the Abbey of St Gall. After the abbey was dissolved in the early 19th century, its former church became the city's cathedral. The whole complex has now been classified as a UNESCO World Heritage Site.
St Gallen now has a population of around 75,000 people, making it the eighth largest city in Switzerland. A large proportion of these are students, as the city's university is world-famous for its business school, and it also specialises in economics, law and international affairs.
Another factor in the city's growth is its textile industry, which started in the 15th century. At one point, half the world's embroidery production came from St Gallen. Two world wars meant the demand for such luxuries dropped, and in recent years computer-aided design from overseas has provided some stiff competition. However, St Gallen designs are still popular in the major Paris fashion houses.
Getting There and Getting Around
The city's closest airport, St. Gallen-Altenrhein, only offers regular flights to Vienna in Austria, and, depending on the season, tourist hotspots such as Ibiza and Menorca. So most international travellers fly in via Zurich, which is just over an hour away by train.
St Gallen's main rail station is just 500 metres from the Old Town, the historic heart of the city, which can be enjoyed on foot, as there is no traffic here at all. If you want to venture further afield, the city has an extensive four-line trolleybus network, and there are plenty of places to hire a bike as well.
The Main Attractions
Those who like browsing around museums should find something to their taste in St Gallen. There are museums dedicated to art (the Kunstmuseum), textiles (the Textilmuseum) natural history (the Naturmuseum) and there is even a beer bottle museum, which forms part of the Schutzengarten, the city's own brewery.
St Gallen's most famous and oldest attraction is its library, which is housed within the Abbey complex. It is one of the most important monastic libraries in the world, containing more than 150,000 volumes and manuscripts, some of which date back as far as the 8th century. Many of the books have now been converted to a digital format for easier access.
If you are after something more family-friendly, then check out the Peter and Paul wildlife park on the northern edge of the city. Here you can see species such as red and fallow deer, marmots and wild cats roam and graze, as well as enjoying great views of nearby Lake Constance – and it's all free.
Sporting types should head south, to the Three Ponds (Drei Weieren) in the Freudenberg area. These ponds are public swimming areas, which, in winter, usually freeze over to form ideal ice-skating rinks.
Shopping Around
The area between the Old Town and the railway station is the Marktplatz, which has a good range of independent stores, including tea and coffee shops, shoe shops, and larger department stores such as H&M.
If you fancy something traditional, then there are plenty of places around the city where you can buy embroidered textiles. The Old Town also hosts the occasional flea market, and there are also flower and vegetable markets too.
Food and Drink Specialities
In common with the rest of Switzerland, there are plenty of chocolates and cheeses to choose from in St Gallen. But the city is probably most famous for its bratwurst, a delicious sausage containing veal, pork bacon and a little fresh milk, which was first eaten in the 15th century.
It was patented as the Olma sausage 300 years later and it is still a popular snack today at barbecues, festivals, football matches and fetes. A top tip – don't eat it with mustard, as locals think this ruins the flavour, but try it with a 'burli', a bread roll, instead.
And if you want something to drink to go with it, try one of the Schutzengarten's beers. This oldest brewery in the country produces a range of award-winning ales, including stouts, IPAs and low-alcohol varieties.
House Removals to Switzerland with The Moving Partnership
The Moving Partnership can help you with house removals to all parts of Switzerland, including St Gallen, Zurich, Bern, Basle and Lausanne. Our network of contacts in the international moving sector means we can source a competitively-priced quote which will be tailored to meet your individual needs.
If you would like to know more about The Moving Partnership's removals to Switzerland, follow this link or call us on 0800 772 3709.