Removals to the Netherlands | Living in Groningen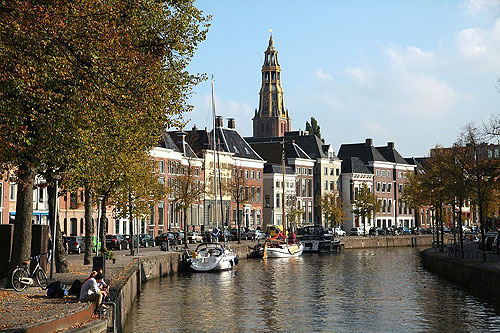 Beautiful scenery, nightlife, canals, tulips and fascinating architecture are just some of the things that spring to mind when you think about Holland. It's no different for Groningen, and if you are organising removals to the Netherlands to settle here, there is plenty to write home about.
One of the things that you will notice when you move here is the city's relatively young population. Around one in five of inhabitants are students – more so than any other town or city in the Netherlands – so it is a pretty cosmopolitan place to live! It's also very cycle friendly, with around three fifths of all journeys taken by bike. So if you are moving to Groningen it's likely you'll get fit very quickly.
The Dutch in general have a very good grasp of English, plus other languages too, so if you don't know the native language it still shouldn't be too hard to make new friends. Many expats moving to the area work in energy, life sciences, IT or the environment, and the tourist related industries are another option for English speaking expats. In addition, the city attracts a large number of students of all nationalities to study in the University of Groningen or the Hanze University of Applied Sciences, which both have a similar student intake.
If you are moving house to the Netherlands, The Moving Partnership Limited can find you the ideal removals company for your requirements – and at the right price too! We compare quotes so you can save on the cost of your move.
Transport in Groningen
With its large network of cycle paths, Groningen has earned itself the nickname 'World Cycling City'. It has also got a large pedestrianised zone in the city centre, which makes it easy to get about by foot or bike. If you are a car driver, one word of warning is that it's difficult to take the car into the city centre, and even harder to find parking spaces, so driving in the city is best avoided if possible.
Fortunately, if you do want to leave the car behind, and don't want to walk or cycle, Groningen has an excellent public transport system with a good network of city and regional buses. For travel further afield, there's also buses that run direct to various cities in Germany, including Hamburg, Berlin and Munich. For those planning time off work, either for a beach holiday or to visit friends and family back in the UK, Groningen Airport Eelde is about six miles from the centre and flies to a host of destinations including Stansted in the UK, Bodrum in Turkey, Faro in Portugal, and Gran Canaria, Canary Islands. Buses to and from the airport and Groningen run every 30 minutes.
A Short History of Groningen
There has been a settlement in Groningen for centuries, but it was not until the Middle Ages that it grew to significance as an important trade centre. It was very much an independent city right up until the early part of the 16th century when it came under the governance of the then Habsburg ruler Emperor Charles V.
In the 17th century Groningen rapidly expanded and, as an indication of its strength, a new city wall was built. It was about this time that the university was founded, which is one of the oldest in the Netherlands (although at the start the subjects were limited strictly to religious education). Later in the century the city survived attack in the Third Anglo-Dutch War and to this day this victory is celebrated every August with a grand festival involving live music and fireworks.
Nowadays, Groningen is seen as a centre of art, education and culture, and lays claim to the largest student population in the Netherlands.
Landmarks of Groningen
Groningen has lots of places to visit, but it is worth bearing in mind that most of the museums close on Monday, so this day is best avoided if you want to discover more about your host city. To celebrate your successful removals to the Netherlands, there are plenty of great places to visit on the remaining days of the week. The city museum, for instance, hosts an amazing art collection which has been declared one of the world's best advanced contemporary art exhibitions. If you like beautiful buildings, however, there are lots of landmark buildings in Groningen, including the beautiful Aar-kerk church which dates from the Middle Ages.
Another major landmark is the grey-coloured Martini Tower. This building dominates the Grote Markt and if you climb right to the top you can enjoy panoramic views all over the city. To experience the views, you can buy tickets from the Tourist Information Centre opposite.
If you would prefer to explore the city by boat, you can either book a leisurely cruise down the canal or hire a canoe. Canoe rides take up to two hours and boats are available to hire from spring to early autumn.
Shopping in Groningen
Groningen has all sorts of places to shop. Grote Markt, once the prettiest square in the Netherlands, lies at the heart of Groningen. Off this square is the pedestrianised Herestraat, which has a host of Dutch chain stores. There are also a number of other pedestrianised streets that extend from here and sell all sorts of delights from clothes to homeware. Arguably the most attractive street, however, is Folkingestraat, which runs from the end of the Fishmarket towards the main train station.
If you want to stock up your refrigerator, the Fish Market opens on Tuesdays, Fridays and Saturdays. Despite its name, the market is not just limited to the sale of seafood, but also sells a host of other perishable goods including mushrooms, fruit and cheeses.
Food and Drink in Groningen
There are all sorts of eateries in the city from Indian to Thai, Japanese and all natural food restaurants. It's worth tasting the local delicacies too, such as eierbal which is a little bit like a scotch egg, and Groningen's own variant of the 'Dutch breakfast cake' which is mainly made out of rye.
For something completely different, the Old Roman Catholic Hospital (Oude RKZ) and former squat runs a folk kitchen that is well worth a visit to experience a quirky meal out. As it's well-known throughout Europe it gets quite busy, so do telephone ahead to make a booking. Alternatively, if you are in need of a bite to eat but have left your wallet at home, The Free Café is just that – it serves bread and soup dishes with a cup of mint tea for the grand price of £0!
Removals to the Netherlands – Contact the Moving Partnership Ltd for a free quote for national or international removals.


Please Contact Me
If you would like us to get in contact with you, please fill out your information below:
FREE Quotation
To get a free quote of your move click the button below and fill out our online form:
FREE Quote
Currencies Direct

For further information on the Currencies Direct service please click here:
"Great service, keep it up. Will always remember MPL"
Mr P
Middlesex
"Best price on the market. Quick reply."
Mr R
Malta