Removals to Germany | Moving House to Europe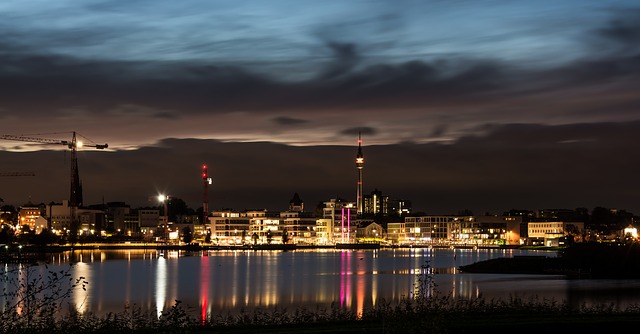 If you are organising removals to Germany from the UK to settle in Dortmund, one of the highlights is Phoenix Lake. The area, called district Horde, was originally known for its thriving coal and steel industries. Now new industries - such high tech and services have taken over, and the former industrial site has been transformed into a lakeside development and recreational area, with its walkways, cycle paths, upmarket apartments, offices, bars and restaurants.
Dortmund has changed dramatically over the past century. Gone are the days of heavy industry as the city now boasts many parks, open spaces, woodlands and waterways. Sports, arts, education and culture have replaced the old industrial past, and, as it is now famed for the success of Borussia Dortmund - a top division football team - it is a fitting tribute that the German Football Museum is based here.
Meanwhile, if you are moving to the continent, particularly if you are organising removals to Germany, The Moving Partnership Limited are the people to contact. We partner with firms across the globe to bring you competitive prices for removals all over the world, including to the UK and Europe. Click on the link above to arrange a free quotation for house moves to Dortmund today.
About Dortmund
Dortmund has a long and interesting history that stretches as far back as the 900s. It was rebuilt in the Roman era, after it was ravaged by fire, and grew to prosper in the Middle Ages when it was a principle city in the area. Fast forward to the 1900's and coal and steel industries put Dortmund on the map.
Nowadays, it is known for its higher educational establishments, which has swelled the city's population of 600,000. It's also famous for its industrial buildings, skyscrapers, theatres, and shopping - with the pedestrianised Westenhellweg attracting as many as 13,000 shoppers an hour at peak times.
Things to Do
If you enjoy touring old castles, there's plenty of opportunity to do this in Dortmund. These include the moated 13th century Haus Bodelschwingh and Haus Rodenberg castles, and the 17th century built Romberg Park Gatehouse turned art gallery, which is now all that remains of the former moated castle.
For those interested in the city's industrial heritage, a popular tourist tour is the heritage trail, which will take you to the main industrial sites. This includes the former Dortmunder Union brewery, now a museum, and the Zollern II/IV Colliery, which is now the headquarters of the Westphalian Industrial Museum.
Meanwhile, for those who are moving to Germany with children, the youngest and oldest members of the family will look forward to a visit to Dortmund Zoo. Animal lovers can easily spend the day at the attraction, which specialises in breeding South American species including giant anteaters.
Shopping in Dortmund
If you love fashion, you won't be disappointed in Dortmund which has made a name for itself as a shopping destination. Just head to the centre where you will find everything from clothes shops to department stores, and shops selling all the latest gadgets. For upmarket shopping head to Kleppingstraße, where you will find some of the most prestigious stores in Dortmund.
In winter, the Dortmund Christmas Market is a must-see. It is one of the oldest and most popular Xmas markets in the country - if not the world. It is dominated by a massive Christmas tree and attracts as many as 3.5 million visitors a year.
Food and Drink
Dortmund is famous for its beer houses and breweries, and it's well worth sampling its Stosschen, a speciality beer served in a small glass. This can easily be washed down with local pub food, such as smoked sausages, called Mettente, and spiced rolls with mincemeat, called Salzkuchen.
Transport
It is easy to get out and about the centre and the suburbs via the city's public transport system, which includes a network of subways and buses. To travel further afield, the city's central train station provides travel to national and regional destinations. Dortmund also has its own airport offering domestic and European flights. You can get to the airport via shuttle bus from the main railway station.
Removals to Germany from the UK
- Would you like to save pounds on your removals? Contact the Moving Partnership Ltd to receive a free quotation for European house moves.
Please Contact Me
If you would like us to get in contact with you, please fill out your information below:
FREE Quotation
To get a free quote of your move click the button below and fill out our online form:
FREE Quote
Currencies Direct

For further information on the Currencies Direct service please click here:
"Great service, keep it up. Will always remember MPL"
Mr P
Middlesex
"Best price on the market. Quick reply."
Mr R
Malta