Four Sound Business Reasons to Use Our Pass the Parcel Service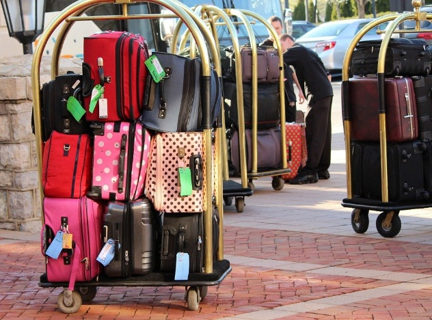 Suitcase shipping services aren't just for students or for people going on holiday who are worried about exceeding the baggage limit. They make excellent sense for businesses and their staff as well.
Job Relocations
If you are starting a job in a new country, then you will have plenty on their plate. You need to make sure that you have all the relevant documents, visas and work permits as well as all the essentials for day-to-day life. If you are talking your family with you, then the situation will be even more demanding.
However using a dedicated suitcase shipping service will ensure that some non-essential items, such as clothes which you won't need for the first day or so, can be sent direct to your new home or hotel, and will be waiting for you on the doorstep (or in the foyer). That means at least one bag fewer to carry around on the big day.
Buying and Other Business Trips
Often staff are sent on buying trips, or to trade fairs and conferences, in Europe and worldwide. Even if you travel light, your cases will soon fill up with free samples and promotional literature. Equally, you may need to take some of your own products with you.
One way of avoiding any problems about exceeding the airline's baggage limit is to send some of your luggage, such as the suitcase with your clothes, via a separate suitcase shipping service, both to your hotel and back home.
Saving Time and Money
In the modern business world, the commercial traveller may need to go to all parts of the globe. This may mean catching a lot of unusual connections, many of which are sold separately rather than as part of a package deal.
However, the more flights you take, the more excess baggage you will need to pay, particularly if your connections do not form part of the same package deal. As company budgets are often restricted, luggage shipping services are often a more cost-effective alternative.
And you also avoid lots of lengthy delays at the baggage carousel, waiting for your suitcases to come around – and time is money in the business world.
Staff Will be Fresher
All travellers will be less stressed and more alert if they have fewer bags to worry about, whether they are travelling within the UK, to Europe or worldwide. It is particularly important for business travellers to create a good impression on clients whenever they arrive at their destination, and this is much easier to do if you don't have lots of heavy bags to carry. Sending some of your luggage on ahead will reduce a lot of the physical effort involved in a trip.
The Moving Partnership's Pass the Parcel Service
With our Pass the Parcel service, we can help you move boxes, suitcases and other small packages. We collect from your doorstep anywhere in the UK and deliver to anywhere in Europe, including France, Ireland and the Scandinavian countries. Australia, New Zealand, Canada and the USA are among our worldwide destinations.
Depending on where it's going, your consignment can be shipped via air freight, sea freight or through our land-based courier service. If you would like to know more, then contact us for a free, no-obligation quote. Our contact details can be found by
clicking on this link.