Five Top Lakes to Visit in Sweden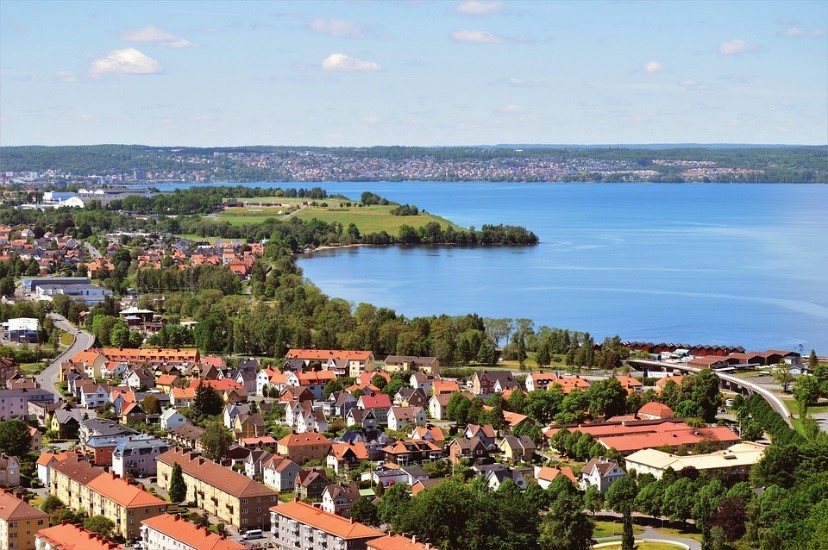 Do you know which Scandinavian country has more than 96,000 lakes? Well, thanks to the effects of the last Ice Age, the answer is Sweden – making it a dream place to move to if you like the water.
As specialists in helping people who are moving house from the UK to Scandinavia, The Moving Partnership can come up with a competitively-priced removals package to suit your individual needs. Here we put the spotlight on five of Sweden's biggest, busiest and most beautiful lakes.
Lake Storsjon
This is the deepest lake in Sweden, and the fifth largest, and it is located in the centre of the country. Rather like Loch Ness in the UK, it is supposed to be the home of a mythical monster, except in this case it is called Storsjoodjuret, not Nessie. It is supposed to have fins across its back and a dog's head.
If you like fishing, this is the lake to visit, as its waters are home to more than 20 species, including salmon, roach, brown trout, bream and perch. Boating and swimming are also popular pastimes here.
Lake Hjalmaren
This lake, the fourth largest in the country, is about 63km long and 20km wide. The town of Orebro is situated at its western end.
These days it is well known for hosting music festivals, with top acts such as Sonic Youth and The Smashing Pumpkins among the bands who have played on the lake's banks. here is free provided you use portable tackle, and there are other restrictions too so you are advised to check with the lake authorities first.
Lake Malaren
This lake lies just to the west of the country's capital, Stockholm. It covers an area of around 1,140sq km, making it the country's third largest, and it runs into the Baltic Sea. Lake Malaren is popular with bird-watchers, as many species of geese, duck and gull nest here.
There are more than 1,200 islands along the shoreline, and two of these – Adelso and Bjorko – were originally occupied by the Vikings and have been declared UNESCO World heritage sites.
Lake Vattern
This stretch of water can lay a strong claim to being the country's most beautiful lake, and you can enjoy some stunning views from the shoreline. Sweden's second largest lake, it is situated towards the south of the country, and city of Jonkoping lies on its southernmost tip.
Like Lake Storsjon, it is also reputedly inhabited by a monster. However, this hasn't put off thousands of visitors from enjoying a summer dip in the lake's crystal-clear waters, or fishermen from trying to catch pike, perch, grayling or any of its other species of fish. However, you aren't allowed to use nets.
Lake Vanern
This is the biggest lake in the whole country, and the third largest in Europe. It lies to the east of Lake Vattern and covers an area of 5,655sq m. It is rich in history, as the famous Old English epic story Beowulf mentions a battle which took place on ice at Vanern. And in 2009 the remains of a Viking ship were recovered from the bottom of the lake.
Visit in summer, and you will be sure to see people either sailing, cycling, canoeing or kayaking. Fishing is also popular, but you should check the local regulations before you start.
Moving House from the UK to Scandinavia with The Moving Partnership
If you are interested in international removals to Sweden, then The Moving Partnership can offer you a competitively-priced package thanks to our network of contacts in the industry. Among the destinations which we can help you move to are Stockholm, Malmö, Uppsala, Gothenburg, Västerås, Örebro and all other towns and cities across the country.
The Moving Partnership can also help if you are moving house from the UK to other countries in Scandinavia and Europe, including Norway, Denmark, Finland, Germany, Italy and the Netherlands. To get in touch with our friendly, professional staff just follow this link and fill in the online form, or call us on 0845 0037335.